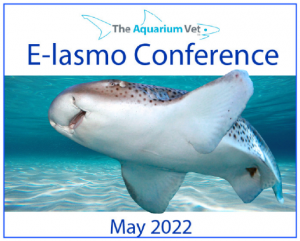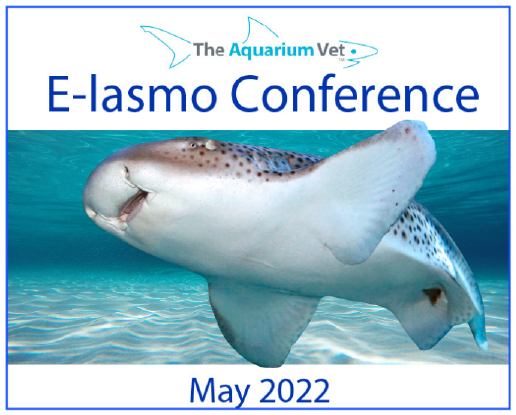 The Aquarium Vet is hosting the third
E-lasmo Conference
the week commencing May 9
th
., 2022. This is the only conference in the world, that is solely dedicated to elasmobranchs in human care in aquariums and zoos. The E-lasmo Conference 2022 will be held virtually over four days with four hours of presentations per day.
The entire E-lasmo Conference 2022 will be recorded and available afterwards to all attendees (in case you miss a session). To register for The Aquarium Vet E-lasmo Conference 2022, please go to https://www.theaquariumvet.com/store/  (early bird registration is available). Aquariums and zoos that purchase five seats at the E-lasmo Conference, will receive a sixth seat for free. The agenda is now available CLICK HERE.
Start

Finish

Australia (East Coast)

8.30 am

12.30 pm

Tuesday to Friday

Europe

12.30 am

4.30 am

Tuesday to Friday

United Kingdom

11.30 pm

3.30 am

Tuesday to Friday

USA (East coast EDT)

6.30 pm

10.30 pm

Monday to Thursday

USA (West coast PDT)

3.30 pm

7.30 pm

Monday to Thursday

Time Zone Converter
Recordings of the two previous E-lasmo Conferences (April 2020 and March 2021) are also available to purchase from our store. Abstracts are available for the 2021 E-lasmo Conference (CLICK HERE) and the agenda for the 2020 E-lasmo Conference ( CLICK HERE ).
Other E-Conferences that The Aquarium Vet hosted in 2020 and 2021 are now only available at Aquarium School and include:
E-Aquarium Conference(May 2020)
E-Workshop Fish Parasites and their Management(August 2020)
E-Reef Conference(October 2020)
E-Aquarium Conference No. 2 (October 2021)
CLICK HERE to go to Aquarium School.