Elasmo Tablets (small) x 100 tablets (Non-AUSTRALIA)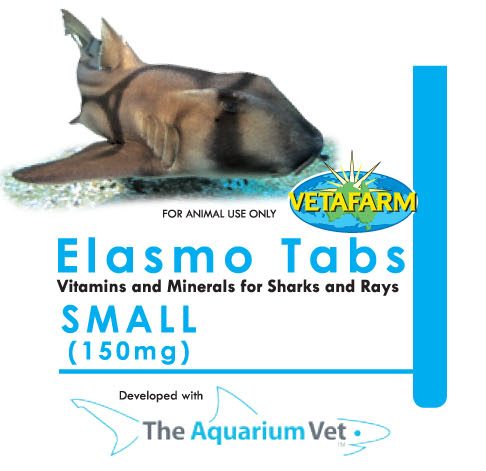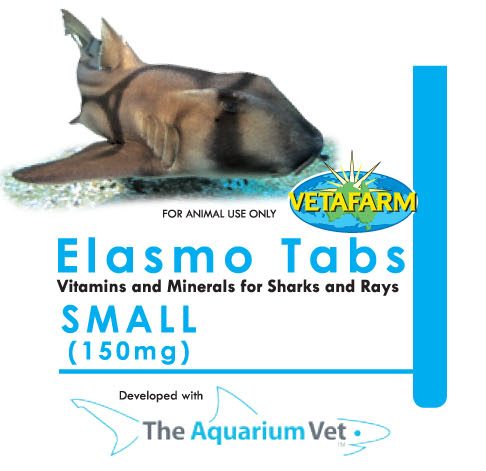 *A one-time handling fee of AUD $25.00 will be added to your shipping total at checkout.
Vitamin and Mineral tablets for small Sharks and Rays. Developed by The Aquarium Vet.
Active Constituents: per tablet:
Thiamin 8 mg    Riboflavin 75 μg     Niacin 0.2 mg      Pantothenate 0.2 mg      Choline 2 mg Folic Acid 80 μg    Pyridoxine 0.2 mg    Biotin 6 μg     Cyanocobalamin 175 μg  Vitamin A 55 IU Vitamin D3 35    IU Vitamin E 10 mg    Vitamin K 0.025 mg   Vitamin C 50 mg      Iodine (I) 12.5 mg      Zinc (Zn) 0.8 mg     Manganese (Mn) 0.3 mg     Iron (Fe) 25 μg Selenium (Se) 15 μg     Cobalt(Co) 30 μg  Sulphur (S) 2.5 mg
Directions for use: 1 tablet per 25 grams fish fed, 3 times per week.
Storage: Store below 30°C (room temperature) and protect from light.